Tell Congress to fund summer learning for college students
Several higher education programs boost college completion rates with summer study.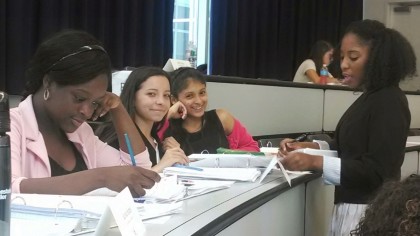 In 2020, Congress is expected to prioritize re-authorization of the Higher Education Act, with key elements support summer study for college-aged youth.
Research shows that Year-Round Pell grants help students stay on track, boost their degree attainment, and increase their earnings (all of which contribute to a stronger economy).
The federal TRIO program includes grant funds to higher education institutions for Student Support Services, designed to increase the college retention and graduation rates among disadvantaged students.
The Trump Administration has proposed consolidating TRIO and GEAR UP programs into a single state formula grant, and completely eliminating the Student Support Services program.
A number of bills would restore the Year-Round Pell program, allowing eligible students to receive a second Pell award during the same year to fund summer study. The President's budget proposal expands the use of Pell funds to include short-term and apprenticeship programs but does not change the maximum award amount, and eliminates the current Pell surplus.
In December 2019, Congress and the President finalized the FY2020 budget deal, which included:

$1.090 billion for Federal TRIO programs, an increase of $30 million an increase of $100 million above the 2019 enacted level.
$365 million for GEAR UP, an increase of $5 million above the 2019 enacted level.
$6,345 for the maximum Pell Grant, maintaining the 2019 enacted level.
You can make a difference: call on Congress to support funding that provides summer learning opportunities for college and college-bound students.
First, Enter Your Zip Code